"Wöhrmann´s SpeechWriting, in SignWriting
Documents, Teaches Deaf Students
Spoken Language."
by
Stefan Wöhrmann
Teacher of Deaf Children
Osnabrück School for the Deaf (LZBH)
Landesbildungszentrum fur Hoergeschaedigte
August-Hoelscher-Straße 89,
49080 Osnabrück, Germany
stefanwoehrmann@gebaerdenschrift.de

It is my experience, as a teacher of Deaf children in the Osnabrück School for the Deaf since 1991, where I have taught Deaf children SignWriting and Wöhrmann's SpeechWriting since the year 2000, that Deaf children have received enormous benefit from being able to read documents in written sign language, and to also be able at the same time, to read the mouth-movements of the corresponding words, and thus improve their oral "spoken-language" skills. It is remarkable seeing Deaf children's language skills improve using a combination of Sutton SignWriting and Wöhrmann's SpeechWriting.

In my presentation, I will give a more detailed history behind this development, but here is a brief summary...

Back in 1999, when I first learned that deaf children in Nicaragua have the opportunity to create written documents in their sign language and read, it was clear to me that the SignWriting script represents a breakthrough in deaf education.

The intensive exchange with the inventor of Sutton SignWriting, Valerie Sutton, and many hours of self-taught studies, encouraged me in the belief that deaf children can benefit enormously with the inclusion of Gebaerdenschrift (the name for SignWriting in Germany), in order to improve and develop their "ORAL" language skills.

My experiences in the early days were initially very sobering. My goal was to help my Deaf students read spoken language textbooks. I wrote the equivalent signs from German Sign Language in SignWriting to translate these books into written sign language. After a few days I realized that I had difficulty reading my own writing! I found that translating between written sign language and written spoken language was not an easy task. It was hardly possible for my students to reproduce my sign-language-writing into German spoken-language sentences. What was the problem?

I realized that in German Sign Language (and probably not only there) a high proportion of information while signing is displayed through mouth movements. In addition to the general mime-like mouth gestures that occur naturally in sign languages (that have no connection to a spoken language), in German signing, we also read the articulatory mouth movements that occur when the speaker "mouthes" or speaks German words, or parts of words, without a voice, while signing.

At first, my initial task in 1999 was to write a German Sign Language Dictionary in SignWriting with the SignWriter DOS computer program. I developed a large dictionary. In the early days, the dictionary entries stored there did not record the mouth movements associated with "speech"...only the signs.

But using those signs in sentences was a different experience. I found that the reading and interpretation of such sign language documents for the experienced reader was a difficult guessing game, without the associated "speech movements" on the mouth written in combination with each sign.

So I started & developed
WOEHRMANN'S SPEECHWRITING
which includes two sections…

1. Mundbildschrift (exact translation: Mouth Picture Writing)
A standardized writing system for picturing the sounds of human spoken language (speech). Compared to the International Phonetic Alphabet, Mundbildschrift is not as detailed and complete but easy to read and sufficient enough to support even young deaf students in their articulation process to develop better spoken language skills. It is used like a spelling system for writing complete words in mouth pictures, and can be applied to any spoken language.
2. Mundbilder (writing what is seen, when Lip Reading)
A standardized writing system for picturing the way the lips look when a person speaks words. These symbols do not represent sounds but can be associated with spoken words, that are seen on the lips when "Lip Reading". In my classroom, these symbols are always written to support the reader in reading SignWriting documents fluently.

More About Mundbildschrift
"Mundbildschrift" is a notation to transcribe the sounds of spoken German and to support deaf students in their effort to improve the articulation of German words. Mundbildschrift is a stand alone symbolset focusing on sound-production and there are no additional symbols involved that can be associated with sign language. These sounds are widely transcribed by means of the International Phonetic Alphabet (IPA). Contrary to the IPA which is difficult to read for young children, it has been my goal to offer a notation that can be understood easily by deaf first grade students at age 6. So it had to be in some way iconic. And in fact, it is very easy for every 3 year old child to "read" the first symbol combinations like "MA", "ME", "MI", "MO" "MU" and the first words like "MAMA", "OMA" or "PAPA". And it is so much fun!

This "Mundbildschrift" notation is similar in form to the IPA (International Phonetic Alphabet), with an exact 1 to 1 mapping of spoken sounds and relevant symbols. For this purpose, I developed a number of additional mouth symbols that are not included in the Sutton SignWriting symbolset, but are needed for writing the sounds of spoken language. I had to distinguish between long and short vowels, voiced or voiceless, and oral or nasal sounds. I started to concentrate on spoken German but nevertheless put some energy and work in the development to support English or Brazilian-Portuguese spoken language as well.


More About Mundbilder
For writing  "Mundbilder in GebärdenSchrift" ("articulatory mouth movements"), I developed a system of notation using the Sutton SignWriting mouth symbols that could be found in the symbolset of the SignWriter DOS computer program. In order to add some new additional "mouth symbols" that I needed for my idea, I combined tiny elements of other symbols located in the software, and in this way I created a "software-supported option" to write what I wanted the reader to know.  Using these symbols, and then giving the structure of how to write the way spoken German words look on the mouth while speaking, became what I call "Mundbilder in GebärdenSchrift", or  "articulatory movement writing".

In contrast to the symbols of Mundbildschrift, the "mouth-symbols" in SignWriting documents are strictly separated from any auditory impression of spoken language. They are based exclusively on visual aspects. This distinction is important to understand the difficulties in lipreading. The deaf cannot hear what the speaker says. The severely hearing impaired person receives only a very vague acoustic impression of spoken language. The deaf child sees the speaker and his lip-movements, but has to guess the meaning of the message, which is much easier in the company of information coming from the hands.

Although some symbols from Mundbildschrift are also used in SignWriting documents, they may not be interpreted in the same way. There are no differences between long and short vowels, voiced or voiceless, and oral or nasal sounds and there is no symbol for "H". Accordingly, the assignments made here as well as in lip-reading in part are ambiguous and require some oral language skills in the corresponding sign language associated with spoken language. I'll try to explain the difference between the two systems in more detail in my presentation. Using numerous examples, it should be possible to understand my invention.


Now in Brazil!
Now Wöhrmann`s SpeechWriting is also successful in Brazil for Brazilian-Portuguese spoken language and LIBRAS (Brazilian Sign Language). Used in the notation of gestures, an international standardization and a consistent interpretation of these mouth icons could be desirable and advantageous.

The mouth images in SignWriting can be used in conjunction with reading written sign language gestures and will be interpreted easily and thus allow the reader a rapid meaningful reading, provided the reader has a sufficient sign language and spoken language vocabulary.

In my presentation, I will provide a detailed list of SpeechWriting symbols, which will include their corresponding assignments to each letter of the German spoken language alphabet, which will help the interested reader to quickly become immersed in this system.
My name sign "Stefan" written in two different ways below:
| | |
| --- | --- |
| | |
| Mundbilder in GebärdenSchrift | Mundbildschrift |
---

DEUTSCH

"Wöhrmanns Mundbildschrift in Gebärdenschrift
Dokumente, Lehrt Gehörlose Studierende
Gesprochene Sprache. "

by
Stefan Wöhrmann
Teacher of Deaf Children
Osnabrück School for the Deaf (LZBH)
Landesbildungszentrum fur Hoergeschaedigte
August-Hoelscher-Straße 89,
49080 Osnabrück, Germany
stefanwoehrmann@gebaerdenschrift.de
Als ich erstmals erfuhr, dass gehörlose Kinder in Nicaragua die Möglichkeit haben, schriftliche Dokumente in ihrer Gebärdensprache zu schreiben und zu lesen, stand für mich fest, dass dies ein Durchbruch in der Gehörlosenpädagogik darstellt.
Der intensive Austausch mit der Erfinderin von Sutton SignWriting Valerie Sutton und viele Stunden autodidaktischer Studien bestärkten mich in der Überzeugung, dass gehörlose Kinder durch die Einbeziehung der GebärdenSchrift (so nennen wir diese Notationsform für Gebärdensprache in Deutschland) enorm profitieren können, um eine bessere  Lautsprachkompetenz zu entwickeln.
Meine Erfahrungen  in der Anfangszeit waren zunächst sehr ernüchternd. Nach wenigen Tagen hatte selbst ich Schwierigkeiten, die von mir verfassten Texte korrekt in die Lautsprache zu übersetzen. Meinen Schülern war es kaum möglich, die von mir geschriebenen Sätze in deutscher Lautsprache wiederzugeben. Was war das Problem?
Ich erkannte, dass in der deutschen Gebärdensprache ( und wahrscheinlich nicht nur da) ein hoher Anteil an Information über das Mundbild beim Gebärdenvortrag vermittelt wird.  Neben der allgemein unkritisch gesehenen Mundgestik beim Gebärden, beobachten wir auch Mundbewegungen, die entstehen, wenn der Vortragende deutsche Wörter oder Teile dieser Wörter ohne Stimme spricht. Meine bis dahin im SignWriter DOS Wörterbuch abgelegten Gebärdeneinträge berücksichtigten diese "Sprechbewegungen" nicht. Allein auf die manuellen Anteile einer Gebärde reduziert, wird die Interpretation solcher Schriftstücke für den geübten Leser ein schwieriges Ratespiel.

So machte ich mich daran und entwickelte zwei verschiedene Notationssysteme, die aufgrund ihrer Verwandtschaft und Ähnlichkeit leider immer wieder vermischt werden.  Es handelt sich dabei um "Woehrmann's SpeechWriting"  und zum Zweiten um die "Mundbildschrift".   Die Mundbildschrift ist eine Notation, die das Hören und Sprechen von Lautsprache unterstützen soll. Diese Notationsform hat ähnlich der IPA eine exakte 1:1 Zuordnung von gesprochenem Laut und entsprechendem Symbol. Für diesen Zweck entwickelte ich zahlreiche zusätzliche Symbole, die im Sutton Symbolset nicht aufgenommen sind. In dieser Präsentation möchte ich mich aber auf die zweite  Entwicklung konzentrieren.
Ich möchte darauf eingehen, dass es sich bei "Woehrmann`s SpeechWriting" - also den Mundbildern in der GebärdenSchrift - um Mundbildsymbole handelt, die rein visuell den Sprechbewegungen zugeordnet sind. Die Verwendung dieser Symbole orientiert sich nur grob an der Schreibweise der Wörter der deutschen Lautsprache. Dementsprechend sind die hier getroffenen Zuordnungen genauso wie beim Lippenlesen zum Teil mehrdeutig und erfordern durchaus eine gewisse Lautsprachkompetenz in der entsprechenden der Gebärdensprache zugeordneten Lautsprache. Nachdem dieses System "Woehrmann`s SpeechWriting"  nun auch erfolgreich in Brasilien bei der Notation von Gebärden angewendet wird, wäre eine internationale Standardisierung und damit eine einheitliche Interpretation dieser Mundbildsymbole wünschenswert und vorteilhaft.  Die Mundbilder in der GebärdenSchrift lassen sich in Zusammenhang mit den manuellen Hinweisen einer Gebärde mühelos interpretieren und ermöglichen dem Leser somit ein zügiges sinnentnehmendes Lesen, sofern er über einen genügenden Gebärdensprach- und Lautsprachwortschatz verfügt.  Das gehörlose Kind erhält über die so erstellten Dokumente wertvolle Hilfen, seine Lautsprachkompetenz zu entwickeln und zu erweitern.

Eine genaue Auflistung der Zuordnung von Mundbildsymbolen zu den Buchstaben der deutschen Lautsprache hilft dem interessierten Leser schnell, sich in dieses System hineinzufinden.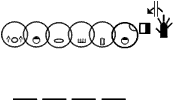 Stefan