Chapter 4
The SignWriter Newspaper
1981-1984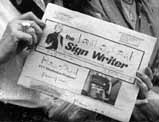 Fall, 1981 - Summer, 1984
The SignWriter Newspaper
was a 12 to 24 page newspaper, published quarterly. It was the first newspaper in history to be written in the movements of signed languages. Most articles were written in two languages: English and American Sign Language. It was distributed free to Deaf people in 41 countries.

Today's SignWriting publications would not be the same, if it were not for the research and development done through the publication of the SignWriter Newspaper. The Newspaper had historic influence on how SignWriting is written today.
The first Deaf journalists on the Newspaper staff were pioneers. They were the first group of Deaf adults to truly become skilled at writing their native language. At that time, signed languages were not considered "written languages". It was a controversial idea to "try to write signs", and all who worked on the Newspaper staff experienced resistance to this concept, from both Deaf and hearing people. New ideas take time for acceptance, something the staff had no choice but to learn the hard way. But there were many strong supporters of SignWriting too. The Newspaper was a catalyst for debating the issue of Sign Language Literacy. It was also a catalyst for developing a way to type signs.
---
Below...
In 1981, there was no way to type SignWriting.
Each issue of the SignWriter Newspaper was
written by hand with ink pens....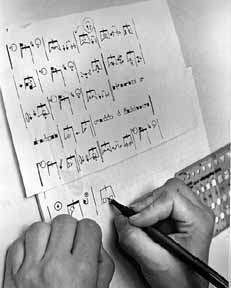 ---

Below...
...or wax symbols were manually pressed on paper
with specially designed "transfer sheets".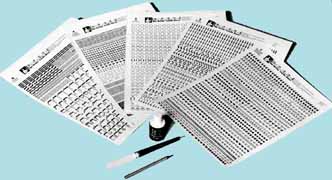 ---
Below...
It took 3 months to write one issue by hand.
The first issue, published Fall, 1981,
was written by hand by Founding Editor,
Nancy Ellen Woo (now Nancy Romero).
Nancy continued to write each issue by hand
for several years. It was tiring, painstaking work.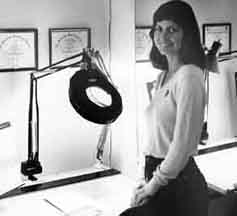 ---
Below...
Lucinda Struxness (now Lucinda Batch), was the first Deaf
reporter to write articles in American Sign Language.
A new profession began called Sign Language Journalism.
Below Lucinda is joined by other Newspaper staff members,
including (from left to right) Kevin Struxness,
Dennis Schemenauer and illustrator Frank Allen Paul.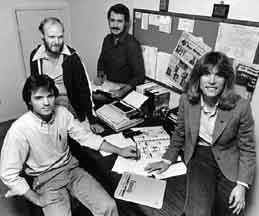 ---
Below...
Publisher Valerie Sutton worked with Meriam Ina Schroeder,
Assistant Editor, on the newspaper's layout and design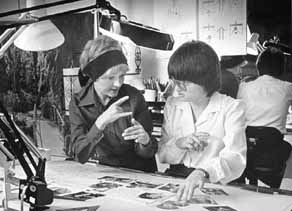 .
---
Below...
Managing Editor, Susan Diamond Bucher,
edited each Sign Language article,
working with Deaf reporters on writing
American Sign Language grammar.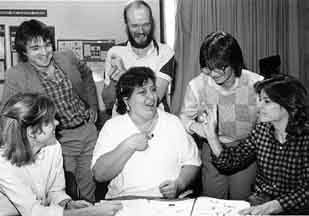 ---
Below...
Dennis Schemenauer and illustrator Frank Allen Paul
created a cartoon strip written in SignWriting.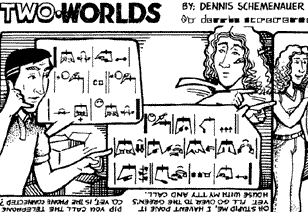 ---
Below...
Vicki Santillanes wrote a "Dear Vicki" column
in American Sign Language,
answering questions from the Deaf Community.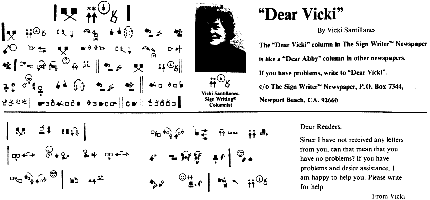 ---
Below...
History was made when articles were written in four languages:
1. Danish Sign Language (DSL)
2. American Sign Language (ASL)
3. English and 4. Danish...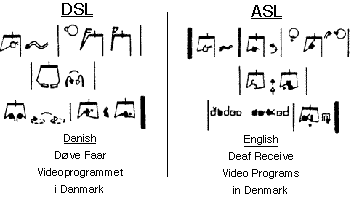 ---
Below...
Publication ceased in 1984 because it
was too much work to write the newspaper by hand.
In 1986, just two years later, the SignWriter Computer Program,
programmed by Richard Gleaves, changed history.
Finally SignWriting could be typed!


The SignWriter Newspaper resumed publication as
the SignWriter Newsletter in 1989, typed by computer.
Since 1996, the SignWriter Newsletter has been posted
regularly on the World-Wide-Web. You can read the latest
issue on the SignWriting Web Site...