A SignWriting workshop took place at the
University College London,
DCAL
(Deafness, Cognition & Language Research Center) October 27-29, 2006. Many thanks to DCAL director, Professor Bencie Woll, for providing the space for the workshop in the DCAL library. The workshop was directed by the
ESWO
(the European SignWriting Organisation).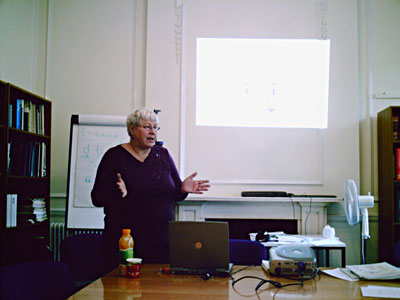 Above: Ingvild Roald from Norway teaching at the workshop.
This was a practical workshop with the theme "SignWriting Symbols and SignSpelling Issues" and was lead by experienced SignWriting trainers and researchers, including
Ingvild Roald
(Norway),
Lucyna Dlugolecka
(Poland) and
Shane Gilchrist O´hEorpa
(Belfast).
A similar
workshop held in Prague
in September, 2006, was very succcessul, attracting people from Czechia, Slovakia, Slovenia, Ireland, Romania and Moldova.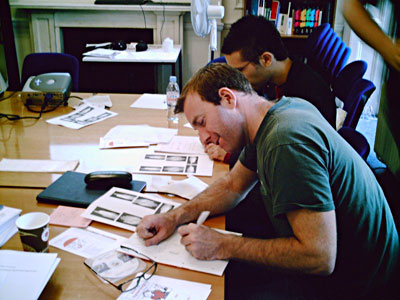 Above: Students learn to write signs by hand.
The ESWO was formed after the
First European SignWriting Symposium
was held last year in Brussels. The Organisation recognises the national sign languages of all European countries. ESWO exists to promote the use of Sutton SignWriting as a written form of those national sign languages.
Above & Below: The lessons were projected on the wall.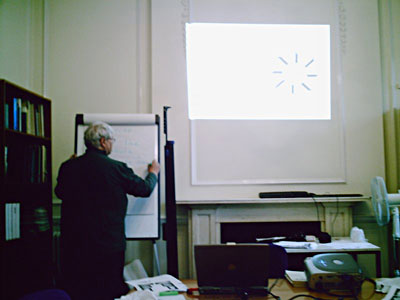 Above: The workshop was held in the University DCAL library.

The BBC See Hear! team also interviewed Ingvild Roald and Shane Gilchrist O´hEorpa. The result was a three-minute TV-report about the SignWriting workshop, on Deaf News, a section of the See Hear! TV program, on November 25, 2006.