page 5

The SignWriting of each sign is aimed at evoking the internal signing in the Deaf mind as effectively as the alphabetic writing evokes the internal speech in the hearing mind.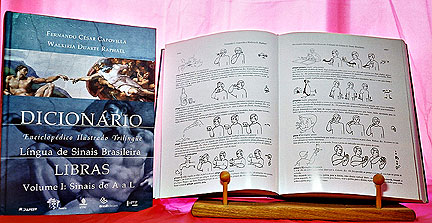 Portuguese and English glosses provide an alphabetic indexing of signs and permit translation from LIBRAS to Portuguese and English.
Grammar classification helps Deaf children learn Portuguese grammar and understand words. Gloss definitions help Deaf children increase Portuguese
vocabulary and world knowledge. It has been shown that the use of
glosses and signs helps improve language skills for Deaf people, in both grammar and semantics.

The Brazilian Sign Language Dictionary's aim includes improving spoken language skills of the Deaf, and signed language skills of the hearing. Sign descriptions allow for precise articulation of signs.