SignWriting Workshop,
Jeddah, Saudi Arabia,
Taught on Skype, June 22-26, 2013
Valerie Sutton, Adam Frost and Dr. Mohamed Abushaira shared a split screen with three computers on Skype, and four other participants from Saudi Arabia, for five days, June 22-26, 2013. It was a wonderful experience for everyone! Astonishing how we could communicate across the globe through video ;-)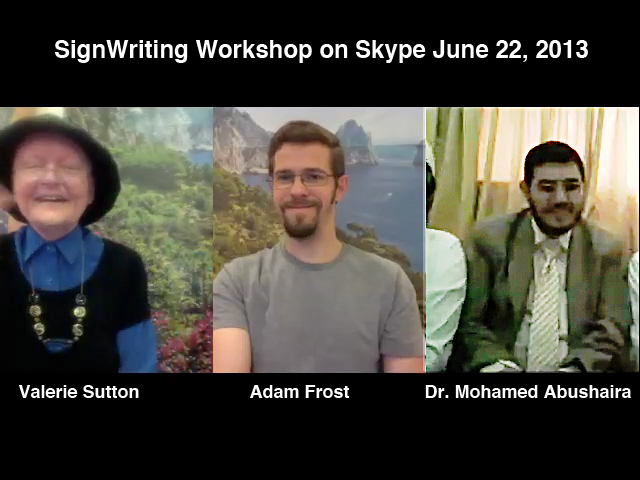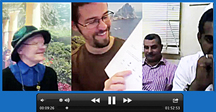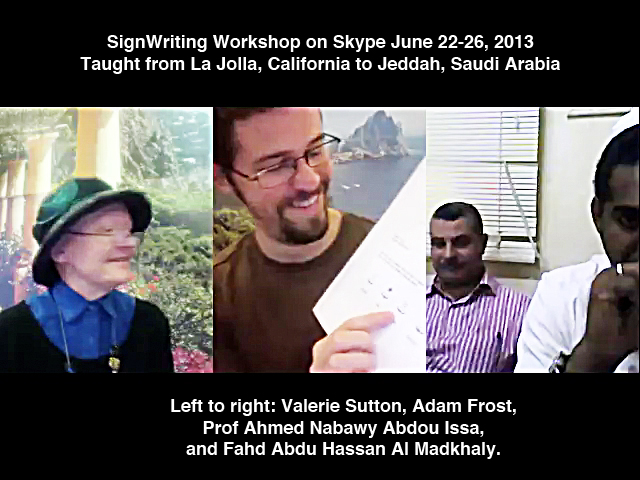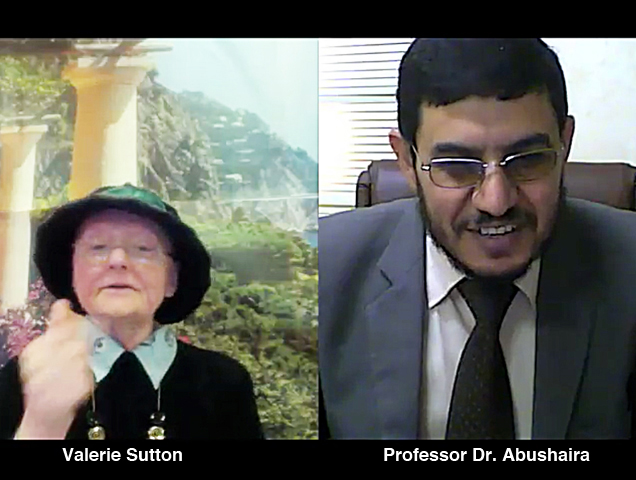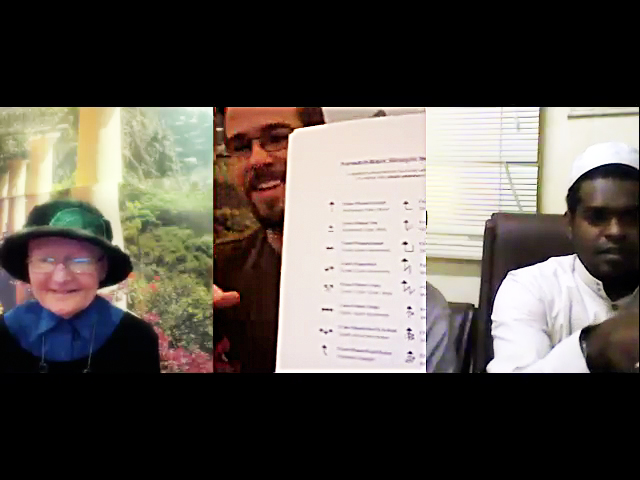 SignWriting List
July 28, 2013
SignWriting Workshop, Jeddah, Saudi Arabia, on Skype, June 22-26, 2013
Taught by Adam Frost and Valerie Sutton in La Jolla, California, five participants at King AbdulAziz University in Jeddah, Saudi Arabia, learned SignWriting everyday for three hours for five days. The workshop was arranged by Associate Professor Dr. Mohamed AbuShaira, in the Special Education Department of King AbdulAziz University in Jeddah. Dr. Abushaira has conducted research with SignWriting and Deaf Education in Saudi Arabia and Jordan for over a decade. You can read more about his work, on this web page:
SignWriting in Saudi Arabia
https://www.signwriting.org/arabia
Teaching the workshop on Skype was an amazing experience. In the beginning, Valerie Sutton, Adam Frost and Dr. Mohamed Abushaira shared a three-way split screen. It was hard for us to see the other participants, but they were in the room sitting next to Dr. Abushaira…The workshop started with English, but as Adam started to teach using American Sign Language, other Deaf participants started to communicate with him and they developed a communication that was uniquely international and their own understanding. It went very well and it was exciting to watch the Deaf communication evolve!
Attached are some photos…they are captured from the Skype conversations… so scroll down to enjoy -
Thank you Dr. Abushaira, and everyone who participated, for sharing this time with us - We will treasure the memory…

Val ;-)

Valerie Sutton
SignWriting List moderator
sutton@signwriting.org
Post Messages to the SignWriting List:
sw-l@listserv.valenciacollege.edu
SignWriting List Archives & Home Page
https://www.signwriting.org/forums/swlist
Join, Leave or Change How You Receive SW List Messages
https://listserv.valenciacollege.edu/cgi-bin/wa?SUBED1=SW-L&A=1