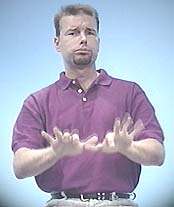 Although SignWriter is an MS-DOS program, it coordinates with other Windows and Macintosh programs, such as Adobe Acrobat and FileMaker. SignWriter prints best on any postscript printer.
SignWriter 4.4
Download Shareware
SignWriter Shareware includes the files for one country only. Shareware versions for 8 countries: Brazil, Colombia, Finland, Germany, Nicaragua, Spain, Switzerland and the US, can be downloaded below.
To receive the international version of SignWriter, which includes 11 spoken languages and 19 signed languages, along with complete printed documentation, please order the The SignWriter Computer Program Package from our catalog.