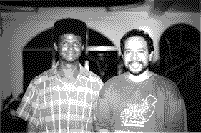 Above: Two Deaf Nicaraguan teachers
Henry, left and Adrian, right.
Ancelmo shows great ability to write stories in SignWriting. He received all five workbooks. While I was in Bluefields, Ancelmo had already written in the Short Stories Workbook.

It took a while for the students to understand how to use SignWriting. Similar to the school systems in the United States, we learned the ABC's first before learning vocabulary. Then, we learned how to write sentences. SignWriting is similar to this. The Deaf students are able to learn SignWriting but it is taking some time for them to become skilled in writing signs, just as we practiced everyday in writing to improve our skills in our own language.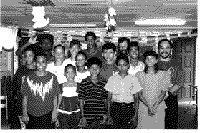 Above: Students & Teachers
Escuelita de Bluefields, Summer 1996
Deaf Nicaraguans are learning SignWriting as their first written language and it is making a big difference in their understanding of the phonetic components of their native Sign Language. It is similar to hearing people, who have their own phonetic way of speaking and relating to their written language.
I strongly believe that SignWriting can help the Deaf children in Bluefields to improve their Sign Language skills and understand how to use their own native Sign Language. SignWriting will also help preserve Nicaraguan Sign Language for future generations.
Thanks for reading this report, and please feel free to contact me, or the DAC anytime for futher information.