About Adam Frost

Adam Frost was born deaf in 1982 to a Deaf family in Utah, and grew up north of Los Angeles, California. From an early age, Adam felt the need for a written form for his language, American Sign Language (ASL). Before 2003, Adam knew nothing of SignWriting, which was developed by Valerie Sutton in Denmark in 1974. Ironically, Valerie taught SignWriting at Los Angeles Pierce College in 1982, the year Adam was born. Later Adam attended Los Angeles Pierce College, receiving his Associates Degree in ASL/Interpreting in 2006.
In 2003, while on the internet, Adam happened to come across SignWriting. He was instantly attracted to it. He joined the SignWriting List and asked questions on how to write signs, and wrote a school paper interviewing people about SignWriting at LA Pierce College. Adam became a skilled signwriter, and soon was answering other List member's questions. In 2004, Adam began working with Valerie Sutton as a member of the Deaf Action Committee for SignWriting (the DAC), dedicating long hours of work to a series of SignWriting projects.
Adam had a vision of an ASL dictionary written completely in ASL. His first project with the DAC was to write sign-definitions in ASL. Some of these definitions are available in the ASL Dictionary in SignPuddle Online. For example, here is the sign for ONE with ASL definitions: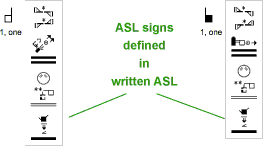 In 2008, Adam wrote and signed his own ASL video called "Why SignWriting?" which he transcribed into SignWriting. It has helped newcomers to SignWriting understand the purpose and value of writing sign languages.
Why SignWriting? by Adam Frost
http://www.signwriting.org/video/about/
Adam dreamed of a day when web sites are written in ASL. That day came in 2009, when Adam developed and posted his blog...the first one in written ASL:
Frost Village
Adam Frost's Blog in Written ASL
http://frostvillage.com/blog/lang/ase/
Adam spent over four years, from 2008 to 2011, photographing his own hands creating the photos for the book, "SignWriting Hand Symbols" which he co-authored with Valerie Sutton. The same photos were used for his animated GFs that teach SignWriting on the web.

In 2012, Adam became the first Deaf ASL Editor of the ASL Wikipedia Project on Wikimedia Labs.

Adam Frost
Papers, Publications & Degrees
July 21, 2008
VAIL Conference, San Diego, California
"SignWriting: Sign Languages Are Written Languages"
Paper By Valerie Sutton & Adam Frost
http://www.signwriting.org/video/about/SignWriting2008/
www.signwriting.org/archive/docs6/sw0523-US-SignWritingVAILConference2008.pdf
September 8-11, 2009
Conference on Sign Languages Around the World, Lisbon, Portugal
SignWriting Presentation and Workshop
Presented by Adam Frost
Universidade Catolica Portuguesa, Instituto de Ceincias da Saude
September 12, 2009
Societas Linguistica Europea 2009 (SLE 2009) Conference, Portugal
"Writing Sign Languages"
Paper by Adam Frost & Valerie Sutton
Universidade de Lisboa, Special Workshop "Listening to Silent Languages".
http://www.signwriting.org/archive/docs6/sw0572-PT-SLE2009_Abstracts.pdf
September 15, 2009
"SignWriting Teacher's Report from Lisbon Portugal"
by Adam Frost
http://www.signwriting.org/archive/docs6/sw0571-PT-SignWritingLisbon2009.pdf
May 21, 2011
Sign Language Corpus Workshop, Gallaudet University
"Sign Language Corpus Using SignWriting"
Paper by Adam Frost
signwriting.org/archive/docs7/sw0650_Sign_Language_
Corpus_using_SignWriting_Frost_May2011.pdf
August 28, 2011
SignWriting Reference Manual
Part Two: SignWriting Hand Symbols
by Valerie Sutton & Adam Frost
ISBN 978-0-914336-86-0, 300 pages
Degrees
2006
Associate Degree in ASL/Interpreting
Los Angeles Pierce College, Woodland Hills
2010
Bachelor's Degree in Deaf Studies
California State University Northridge (CSUN)
2012
Master's Degree in Linguistics
Gallaudet University, Washington DC