Brief von Irina an Valerie Sutton anlässlich der Terrorakte in Amerika.

A letter for Valerie Sutton about the terrorist attack in America.
Irina bittet mich, einen Brief in GebärdenSchrift an Valerie Sutton - die Erfinderin der GebärdenSchrift - zu schicken. Irina steht neben dem Computer, gebärdet, liest, korrigiert, formuliert neu - und liest abschließend ihren Brief . Sie freut sich auf Valeries Antwort!
Irina asked me to give a letter written in SignWriting to Valerie Sutton - the inventor of SignWriting. Irina stood near the computer and signed, read, corrected and created new sentences, creating this letter in SignWriting. She is waiting for Valerie's answer!
Stefan Woehrmann
stefanwoehrmann@gebaerdenschrift.de

Teacher of Deaf Children
Osnabruck, Germany
September 14, 2001
Osnabruck, Germany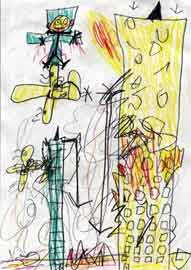 http://www.gebaerdenschrift.de