DESCRIBING LANGUAGE continued...
Language also occurs in a time sequence. We see or hear it as a continuous stream, but when we talk about it we can break it up into segments like the speech sounds shown in Figure 1. The job of a writing system is to describe these segments.
Figure 1

One way to describe language segments is by pictures, or schematic diagrams, showing the positions of the articulators - the lips, tongue, velum and other parts of the body that are used to produce language - as in Figure 2.
Figure 2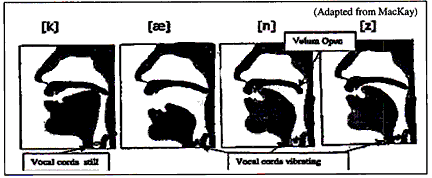 Notice that there are certain things that must be included in each diagram. The tongue's position must be drawn in, the vocal cords must be included to show if they are still or vibrating, and the velum must be shown (It opens for [n] sounds - see Figure 2.). Each of these things determines a certain "parameter," and to describe a segment we have to include all the parameters. For example to make an [u] sound, the lips are round and the tongue is up, but for an [o] sound, the lips are still round but the tongue is low. Lip Rounding and Tongue Location are the parameters that must be shown.