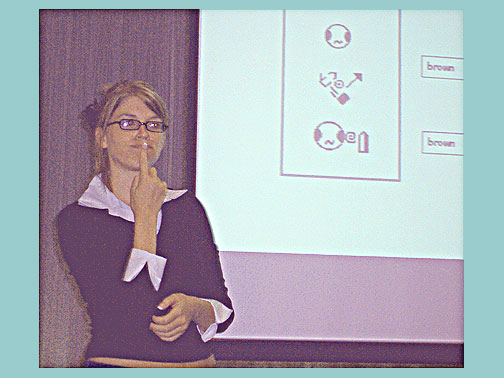 Photo: Kathleen Heylen, from Belgium, presents the way SignWriting is used at the Kasterlinden School for the Deaf in Brussels, Belgium.
The SignWriting diagram is written in Flemish Sign Language.

For more information about
SignWriting Presentations at
the ICED Conference 2005,
in Maastricht, Netherlands,
write to:

Stefan Woehrmann
stefanwoehrmann@gebaerdenschrift.de

http://www.gebaerdenschrift.de
http://www.SignWriting.org/germany
Osnabruck School for the Deaf, Germany
...and...
Kathleen Heylen and Sara Geudens
katjesaar@hotmail.com
http://www.SignWriting.org/belgium
Kasterlinden School for the Deaf
Dilbeekstraat 1, 1082, Sint-Agatha-Berchem, Belgium

...and...

For more information about the
European SignWriting Organization (ESWO)
write to:

Ingvild Roald, Norway
and
Shane Gilchrist Ó hEorpa, Northern Ireland

ESWO Email:
eswo@eswo.eu

ESWO Web Site:
http://eswo.eu/

Photo by Stefan Woehrmann