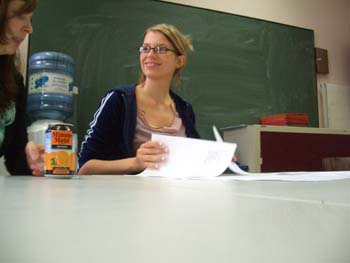 Photo above:
Kathleen Heylen, from Belgium, coordinated the Symposium, along with fellow teacher Sara Geudens (Sara is in the above photo too...to the far left ;-). Kathleen and Sara teach SignWriting to Deaf children at the Kasterlinden School in Brussels. The Symposium was held at Kasterlinden School.
Read more about Sara and Kathleen teaching their Deaf students in Belgium.
Photo below
: Kathleen presenting at the Symposium with Shane in the background.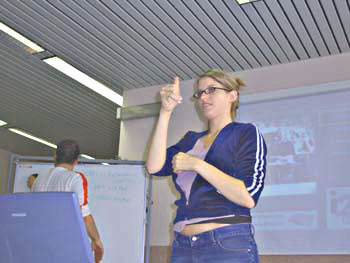 Photo by Stefan Woehrmann
View All Photos in a Gallery!



For more information about the
European SignWriting Organization (ESWO)
write to:

Ingvild Roald, Norway
and
Shane Gilchrist Ó hEorpa, Northern Ireland

ESWO Email:
eswo@eswo.eu

ESWO Web Site:
http://eswo.eu/
or...
Valerie Sutton
Sutton@SignWriting.org