Become a SignWriting Member...
Learn SignWriting with a teacher on the internet or by phone...

Learn
SignWriting
with a Teacher!

Learn SignWriting
with Valerie Sutton
by videophone,
voice phone,
email, Skype,
ooVoo or iChat.

The photo above shows Val at her computer on Skype. Use Skype, ooVoo, or iChat, or videophone, voice phone or email.

Talk with Val directly by video in ASL (American signs), English or Danish. Learn SignWriting symbols, learn how to write documents in SignWriting, learn how to use SignPuddle and SignBank software, and discuss the issues surrounding SignWriting. It really helps to learn from a teacher face to face, especially if you perfer to use a sign language.
If you do not know ASL, but know another Sign Language, that is fine. We can try to communicate and learn each other's signs. We can also provide you with other SignWriting teachers who are Deaf, and may have a better understanding of international signs.
Want ongoing instruction? Become a SignWriting Member for $25.00 a year. Membership is tax-deductible in the US. Members can schedule 5 private lessons within one year. That is only $5.00 per lesson! More lessons can be purchased after that.

Lessons last from 30 min to an hour. You can choose your own questions to ask Val, or she can present structured lessons of your choice. Appointment times are flexible. Write to Val for an appointment: Sutton@SignWriting.org


How to Pay for SignWriting Membership:

1. Pay on PayPal ...or...

2. Fill out the form below and fax or mail it to us.

When we receive your membership, we will send you an email asking when you would like to schedule your first lesson. Times are flexible, and you can choose your choice of technology...videophone, voice phone, Skype or iChat.

Write to Val anytime at Sutton@SignWriting.org. Your messages are always welcome! ;-)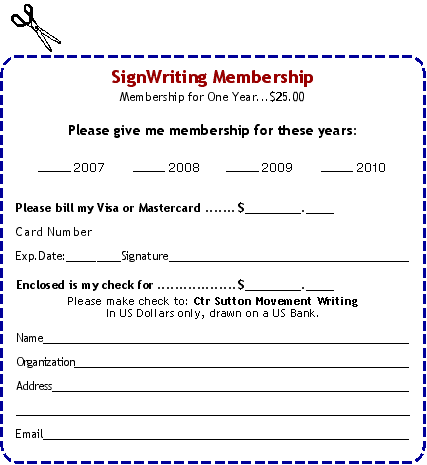 Print the above form, and mail your payment.
Or you can Pay on PayPal...

All memberships are tax-deductible in the USA.
Thank you so much for your support!

Deaf Action Committee for SignWriting
Center For Sutton Movement Writing
an educational nonprofit organization
P.O. Box 517, La Jolla, CA, 92038-0517, USA
858-456-0098 voice...Sutton@SignWriting.org